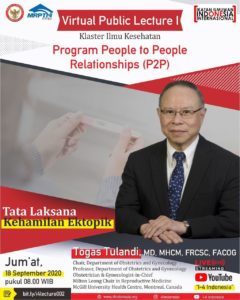 Halo, rekan-rekan akademisi!
Pada kesempatan kali ini, I-4 bekerjasama dengan Kedutaan Besar RI di Washington D.C dan MPRTNI CRISU, akan mengadakan 'Virtual Public Lecture I (VPL I)' Klaster Ilmu Kesehatan dengan topik Tata Laksana Kehamilan Ektopik. VPL adalah program yang di inisiasikan untuk merangkul dan menjalin relasi antar sesama (People to People's Relationships Program).
Tata Laksana Kehamilan Ektopik akan dipresentasikan oleh :
Togas Tulandi, MD, MHCM, FRCSC, FACOG:
Chair, Department of Obstetrics and Gynecology; ▪️Profesor Department of Obstetrics dan Gynecology;
Obstetrician and Gynecologist in Chief;
Milton Leong Chair in Reproductive Medicine; McGill University Health Centre, Montreal, Canada.
VPL I Klaster Ilmu kesehatan akan diselenggarakan pada:
 Jumat, 18 September 2020
 08.00 AM WIB
💻 LIVE STREAMING YOUTUBE: I-4 INDONESIA
Bagi Anda yang ingin mendaftar, silakan mengisi formulir pada tautan registrasi di bawah ini:
———————————————————————————————————————————————————————
Dapatkan informasi VPL selanjutnya dan berita menarik lainnya melalui:
Website        : www.i4indonesia.org
Instagram    : @i4indonesia
YouTube       : I-4 Indonesia
Dari Dunia untuk Indonesia
Salam Ilmuwan Indonesia untuk Dunia
Repost Instagram  i4indonesia   : @i4indonesia