Klaster Ilmu Kesehatan bekerjasama dengan Kedutaan Besar RI di Washington D.C dan MPRTNI CRISU akan mengadakan Virtual Public Lecture ke-2 dengan topik "Viruses, Vaccines and Antivirals".
VPL sendiri adalah program inisiatif untuk merangkul dan menjalis relasi antar sesama (People to People's Relationship Program).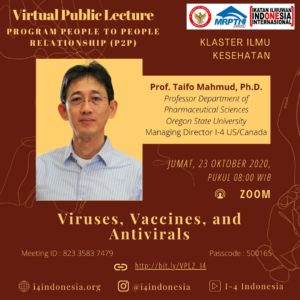 Materi akan dipaparkan oleh:
Prof. Taifo Mahmud, PhD
(Professor Department of Pharmaceutical Sciences and Managing Director I-4 US/Canada).
Acara ini akan dilaksanakan pada:
🗓️ Jumat, 23 Oktober 2020
🕰️ 8.00AM WIB
💻 Zoom: http://bit.ly/VPL2_I4
Meeting ID: 823 3583 7479
Passcode: 500165
Catat tanggal dan waktunya, langsung bergabung di zoom meeting!
—————————-
Dapatkan informasi Webinar dan berita menarik lainnya melalui:
Website: www.i4indonesia.org
Instagram: http://bit.ly/I4Indonesia
YouTube: http://bit.ly/I-4Indonesia
Dari Dunia untuk Indonesia
Salam Ilmuwan Indonesia untuk Dunia